A szeretett, évtizedes Windows 7 már hivatalos támogatásának vége felé jár – a Microsoft bejelentette, hogy 2020. január 14-én abbahagyja a technikai támogatás és a biztonsági frissítések nyújtását a Windows 7 rendszert futtató eszközökhöz.
Fontos megjegyezni, hogy a Windows 7 továbbra is működni fog, és a megjelenése óta eltelt 10 évben számos speciális fórum, wiki, webhely és szolgáltatás hasznos erőforrásokat halmozott fel különféle kérdésekre vonatkozó mélyreható megoldásokkal. Az egyetlen hátrány, hogy az információ általában inkább a haladó felhasználók számára megfelelő.
Ha attól tart, hogy a lehetséges technikai kérdések megoldása túl bonyolult és időigényes lehet az Ön vagy a vállalkozása számára, javasoljuk, hogy váltson Windows 10-re. A Microsoft állítása szerint a Windows 10 az utolsó operációs rendszer, amelyet valaha is kiadnak, folyamatos fejlesztésekre és frissítésekre támaszkodva, hogy naprakész legyen a technológiai tendenciákkal.
Egyéb kérdések, amelyek felmerülhetnek

K: Melyik Windows 10 licencre van szüksǵem?
F: Készítettünk egy cikket, amely segít eldönteni: Windows 10 Home vs Windows 10 Pro
K: Hogyan frissíthetek Windows 7-ről Windows 10-re?
F: Tekintse meg az alábbi magyarázatunk: Hogyan váltsunk Windows 10-re
K: Szervezetem több száz Windows 7-tel ellátott eszközzel rendelkezik, hogyan tudom zavartalanul frissíteni őket Windows 10-re?
F: Javasoljuk, hogy válassza a mennyiségi licencelési megoldás: Hogyan frissítsük eszközök százait Windows 10-re
magyar és
több mint 10 másik nyelv
angol
német
olasz
francia
portugál
spanyol
szlovák
cseh
lengyel
bolgár
+ számos egyéb nyelv
Alternatív termék
Variáns:
elektronikus tanúsítvány
Készleten
Elektronikus kézbesítés 5 percen belül
Jelenleg nincs készleten
Kézbesítés e-mailben
Windows 10 Enterprise LTSC 2019 Upgrade
106 800 Ft
21 900 Ft
27 813 Ft
ÁFA-val együtt (27%)
Termékek összehasonlitása
Termék részleteinek megtekintése
Szerezzen be többet ugyanazért vagy alacsonyabb árért!
Kért termék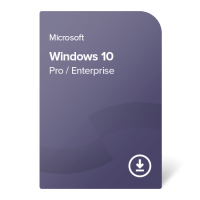 Windows 10 Pro / Enterprise Upgrade
Készleten
Jelenleg nincs készleten
Kézbesítés e-mailben
Átvihető (online aktiválás)
Egy eszközhöz
Lejárat nélküli
Szinte bármilyen PC-vel vagy laptoppal kompatibilis
A Windows 10 teljes verziójaként kell telepíteni és aktiválni
Lehetősége van választani Pro és Enterprise LTSC (2019) között
Server Error
We're sorry! The server encountered an internal error and was unable to complete your request. Please try again later.
error 500