www.forscope.hu
Autodesk Building Design Suite 2016 Premium – állandó tulajdonú
Autodesk Building Design Suite 2016 Premium – állandó tulajdonú
magyar és
több mint 10 másik nyelv
angol
német
olasz
francia
portugál
spanyol
cseh
lengyel
orosz
kínai
+ számos egyéb nyelv
A kép csak illusztráció. A terméket csomagolás nélkül szállítjuk.
Еlektronikus tanúsítvány
Lejárat nélküli
Windows operációs rendszerrel kompatibilis
A végfelhasználói fiókba való átvezetés akár 6 munkanapot is igénybe vehet
Tartalma: AutoCAD (+ Architecture, MEP, Raster Design), ReCap, Revit, 3dsMax, Navisworks Simulate
Termék típusa:
teljes verzió; esetlegesen frissített a szerzői jog tulajdonosával kötött karbantartási megállapodás alapján
Disztribúció formája:
elektronikus tanúsítvány; hálózati licenc (azon eszközök száma, amelyeken a licenc egyszerre használható, megegyezik a vásárolt licencek számával)
Másodlagos szoftver:
igen; az összes szükséges dokumentumot az EU jogszabályaival összhangban szállítjuk
Érvényesség:
életre szóló
Átruházhatóság:
átvihető
Telepítési eljárás:
telepítés a gyártó telepítőfájljából (a fájl letöltéséhez linket biztosítunk)
Architektúra:
32/64 bit
Operációs rendszer kompatibilitása:
Windows
Használat:
párosítható Autodesk fiókkal
Nyelv:
többnyelvű szoftver
Szoftvertanúsítvány
Az EU jogszabályainak megfelelő dokumentáció (eladói nyilatkozat)
Vásárlásról szóló igazolás (számla)
Telepítőfájl letöltése
Internetkapcsolat:
Microsoft Internet Explorer 9 vagy későbbi verziók
Processzor:
AMD Athlon 64 vagy AMD Opteron SSE2 technológiával; Intel Xeon vagy Intel Pentium 4 Intel EM64T támogatással és SSE2 technológiával
Memória:
4 GB RAM
Merevlemez-terület:
30 GB
Operációs rendszer:
Windows 7, 8, 8.1, 64-bit
Képernyőfelbontás:
1360×768 vagy nagyobb felbontásu
Ajánljuk még
AutoCAD 2012 – állandó tulajdonú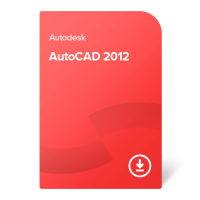 386 900 Ft
Autodesk Building Design Suite 2016 Premium – állandó tulajdonú
Autodesk Building Design Suite
is a set of
CAD
and
BIM
tools to aimed mainly at architects,
MEP
and structural engineers and professionals in the construction industry. Building Design Suites are focused on providing the workflow and design instruments required for handling all major aspects of construction projects – from 2D and 3D design, visualization, simulation, calculations, technical analysis and optimization through planning, decision making, accurate documentation, presentation and plotter preparation, to performance and cost estimation, construction, and operating and maintaining the resulting constructions and facilities.
Main benefits of Autodesk Building Design Suite:


| | | |
| --- | --- | --- |
| |   | Enhanced toolbox – expand your productivity and creativity with the collection of helpful tool sets aimed at different design purposes and processes |
| |   | Automated workflows – automate and accelerate frequent operations and workflows with the in-built collaboration features |
| |   | Cloud connectivity – easily share and view your 3D designs with Autodesk A360 web-based cloud services thanks to the 25GB storage (per license), cloud rendering options and drawing optimization capabilities |
| |   | Reduced costs – lower your organization's software expenses by buying all necessary products together |
What's the difference between Building Design Suite editions?
All Building Design Suites are typically available in three editions: Standard, Premium and Ultimate.
Standard is best for planners and draftsmen with its collection of essential programs that can be used to create, document, and share drawings.
Premium is focused on the needs of architects and engineers which includes powerful BIM tools and additional visualization instruments.
Ultimate would be most suitable for contractors and project management companies because of its expanded 3D design toolset.
In the table below you can see the main programs included in each edition from version 2016 onwards.
| | | |
| --- | --- | --- |
| Program | Standard | Premium |
| AutoCAD | | |
| AutoCAD Architecture | | |
| AutoCAD MEP | | |
| AutoCAD Raster Design | | |
| Showcase | | |
| ReCap | | |
| 3ds Max | | |
| Revit | | |
| Navisworks Simulate | | |
| Navisworks Manage | | |
| Inventor | | |
| Robot Structural Analysis Professional | | |

The Premium edition builds on the Standard pack with Autodesk Revit, 3ds Max and Navisworks, so you can analyse, evaluate, revise and present 3D BIM models with compelling visualisations. Moreover, beside the typical programs for the Premium edition, the 2019 version of Autodesk Building Design Suite also includes AutoCAD Structural Detailing and AutoCAD Sketchbook Designer.

Looking for a more basic edition for a lower price? You can find the Autodesk Building Design Suite Standard here.
Licensing
Save money and provide flexibility to your team with Autodesk Building Design Suite 2019 Premium's perpetual, non-expiring network license – the perfect choice for companies with international offices, professionals who travel often and employees working shifts, among others. This type of license allows you to install the suite on many devices (for example at your office and home computers and on your laptop), but you can use the software only on one device at a given time. This way you don't waste time in uninstalling and reinstalling the suite when you need to move to a new location or buy a new device.